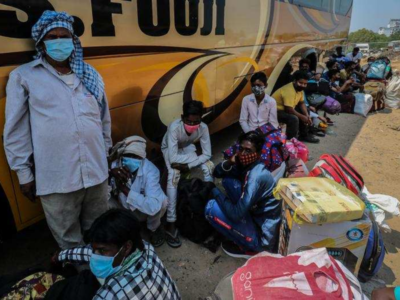 At bus stands and railway stations, this is visible as many pack their bags and depart.
GURUGRAM: "I can't risk being here. I can't trust the city to help me if I fall ill or lose my job. I'll be safe in my village and in case I do get infected, I have my people there to help me. Here I won't even get a ground for my last rites if I die of Covid-19," said 45-year old Pankaj Kumar, as he left Gurugram for Badaun in UP with his friend on a motorcycle on Sunday night after hearing the news of a week-long lockdown in the state.
In fact, the announcement of the week-long lockdown has resulted in a spurt in reverse migration of the workers in the city. From construction workers to those employed in various industries like textile and electronics, there is apprehension of more stringent restrictions in the coming days. At bus stands and railway stations, this is visible as many pack their bags and depart.
Construction agencies and other industries have claimed the restrictions have brought their working capacity to under 30% and in spite of their repeated assurance of assistance, there's a trust deficit among the workers. Labour contractors have claimed that all their workers have left the city and they are unable to provide human resources to key project sites like Huda City Centre flyover and Atul Katariya Chowk junction.
"For the past one month, I've been struggling to hold back the workers. Now, I'm left with no worker," said Deepak Sharma, a labour contractor for the Huda City Centre project. "All construction agencies keep calling me to provide them with new workers but I can't help. The weekend lockdown followed by the week-long lockdown was the last nail in the coffin. Nobody wants to die without their loved ones being around them."
Industries have claimed that besides the fear of being trapped in the city in the event of a possible stringent lockdown, the unpreparedness of the government to deal with the second wave has made workers apprehensive about their wellbeing in the city. They have further argued that if the government hopes to hold back these workers and ensure that the wheels of the economy do not come to a screeching halt, the healthcare infrastructure needs to cover these workers.
"They had over one year to create healthcare infrastructure for these workers. We are ready to support them but there are no beds available. We provide oxygen cylinders to the administration but there is no assurance that if our workers need it, the government will ensure the availability," N Mangla, president of the Gurugram Industrial Association, told TOI.
"We have been demanding an increase in the count of ESI hospitals where these workers are covered, but nothing has been done. Crumbling healthcare infrastructure had already made people skeptical about their future here during Covid surge and lockdown has only pushed them off the edge," he added.
FacebookTwitterLinkedinEMail