NEW DELHI: Schools and colleges in the city are at a higher risk of indoor air pollution due to poor ventilation and use of chalk and other items that increase the level of volatile organic compounds.
This was revealed in a study released on Friday by IIT Delhi's Centre of Excellence for Research on Clean Air (CERCA). It added that schools and colleges had PM10 and PM2.5 concentration much beyond WHO standards. The PM2.5 input-output ratio was more than one in all the selected six schools.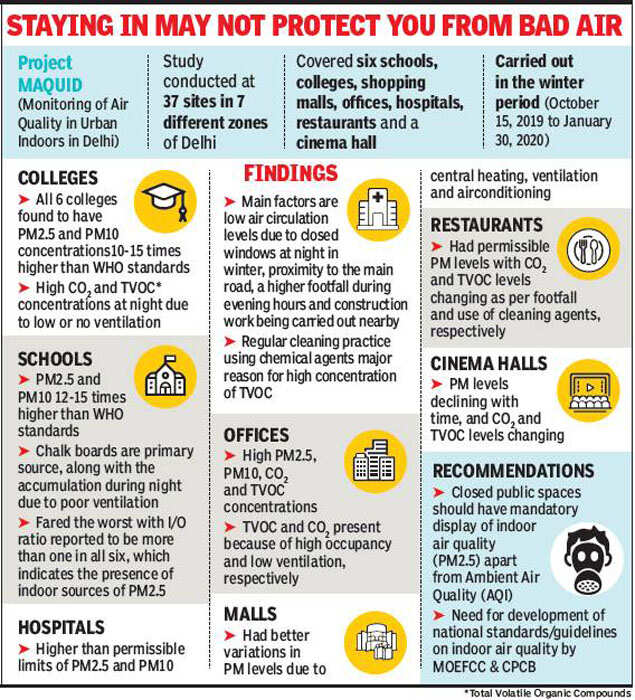 The baseline survey titled Project MAQUID (Monitoring of Air Quality in Urban Indoors in Delhi) was conducted by IIT-Delhi in association with Society for Indoor Environment and Kaiterra, an air quality instrument company, at 37 sites, including schools, colleges, hospitals, restaurants, residential buildings, shopping malls and cinemas, from October 15, 2019 to January 30, 2020. Monitoring was done 24×7 in most of the selected buildings using air quality monitors.
"We want to raise awareness about indoor air quality because people spend more than 90% of their time in indoor environments," said CERCA founder Arun Duggal.
The study mentioned that far less attention was paid to indoor air pollution in urban areas due to the complex nature and types of indoor environments. Multiple sources, such as tobacco smoking, building materials, occupant activities and poorly maintained ventilation systems, can co-exist in urban buildings and make the pollution levels worse.
The pollutants of prime concern could be particulate matter, gases, biological aerosols and volatile organic compounds, according to existing studies on different buildings across the world, which can affect the health and well-being of the occupants.
It was found that the concentration of both PM10 and PM2.5 was 2-5 times higher than the permissible limits set by Central Pollution Control Board (CPCB) for ambient air quality and 10-15 times higher than the WHO 24-hour average limits. It was also revealed that despite a ban on smoking in public spaces, it was rampant in offices, hospitals and colleges.
The level of volatile organic compounds was the highest in hospitals and restaurants due to the rampant use of chemical cleaning agents, floor cleaners and cooking oils.
CERCA has called for more education and awareness on the sources and effects of indoor air quality with mitigation solutions. "There needs to be a comprehensive assessment of indoor air quality, including the presence of bacteria and viruses in existing public spaces. Also, national standards or guidelines on indoor air quality should be developed by Union ministry of environment and CPCB based on available scientific knowledge and research studies," the report stated.
Meanwhile, during the webinar in which the report was released, hackers drew obscene images on the screen before the intrusion was removed.